1976
Handel: Messiah (Parts II, III)
1977
Bach: Cantata No. 4|Mozart: Coronation Mass|Bach: Cantata No. 142|Schubert: Magnificat|Vaughan Williams: Fantasia on Christmas Carols
1978
Mendelssohn: Elijah|Handel: Messiah (Part I)
1979
Puccini: Messa Di Gloria|Vivaldi: Gloria|Schubert: Magnificat|Vaughan Williams: Fantasia on Christmas Carols
1980
Beethoven: Mass in C Major|Vaughan Williams: Hodie
1981
Handel: Messiah (Parts II, III)|Bach: Magnificat|Pinkham: Christmas Cantata
1982
Gounod: St. Cecilia Mass|Three Songs by Ives|Walton: Coronation Te Deum|Poulenc: Gloria
1983
Mozart: Requiem|Handel: Messiah (Part I)
1984
Mendelssohn: Elijah|Vaughan Williams: Hodie
1985
Handel: Judas Maccabaeus|Bach: Christmas Oratorio, Cantata I|Bernstein: Chichester Psalms
1986
Mozart: Coronation Mass|Vaughan Williams: Benedicite|Bach: Sleepers Wake|Rutter: Gloria
1987
Brahms: Requiem|Handel: Messiah (part I)
1988
Puccini: Messa Di Gloria|Stanford: Songs of the Fleet|Bach: Christmas Oratorio - Cantata VI|Bush: In Praise of Mary
1989
Verdi: Requiem|Finzi: In Terra Pax|Pinkham: Christmas Cantata
1990
Handel: Messiah (Part II, III)|Bush: Christmas Cantata
1991
Durufle: Requiem|Opera Choruses|Handel: Messiah (Part I)
1992
Mozart: Requiem|Vaughan Williams: Five Mystical Songs|Vivaldi: Gloria|Rutter: Gloria
1993
Haydn: Mass in Time of War|Hoiby: For You O Democracy (premiere)|Vaughan Williams: Hodie
1994
Brahms: Requiem|Bach: Magnificat|Britten: Ceremony of Carols
1995
Mendelssohn: Elijah|Handel: Messiah (Part I)|Beveridge: Magnificat (premiere)
1996
Bernstein: Chichester Psalms|Faure: Requiem|Music of 16th century Venice|Bush: In Praise of Mary|Dalglish: Star in the East
1997
Vaughan Williams: Dona Nobis Pacem|Hoiby: For You O Democracy
1998
Handel: Messiah (Parts II, III)|Poulenc: Gloria|Walton: Coronation Te Deum
1999
Britten: Festival Te Deum|Stravinsky: Symphony of Psalms|Ive: General William Booth Enters Into Heaven|Thompson: Alleluia|Hindemith: March from Symphonic Metamorphosis|Handel: Messiah (Part I)
2000
Verdi: Requiem|25th Anniversary Program (music by Bach, Gabrieli, Gawthrop, Rutter, Dirksen)
2001
Beethoven: Mass in C Major|Stanford: Songs of the Fleet|Vaughan Williams: Hodie
2002
Lauridsen: Lux Aeterna|Respighi: Laud to the Nativity
2003
Brahms: Requiem|Handel: Messiah (Part I)
2004
Durufle: Requiem|Verdi: Stabat Mater|Vivaldi: Gloria|Pinkham: Christmas Cantata
2005
Schubert: Mass in G|Opera Choruses|Hovhaness: Magnificat
2006
Medelssohn: Elijah|Schubert: Magnificat|Rutter: Gloria
2007
Verdi: Requiem|Handel: Messiah (selections)|Rachmaninoff: Vespers (selections)
2008
Brubeck: Mass- To Hope!|Anthems & Spirituals|Vaughan Williams: Hodie
2009
Vaughan Williams: Dona Nobis Pacem|Vivaldi: Gloria|Britten: Ceremony of Carols
2010
Puccini: Messa di Gloria|Bernstein: Chichester Psalms|Barber: Adagio for Strings|35th Anniversary Program (music by Bach, Rachmaninoff, Vaughan Williams, Dalglish, Gawthrop)
2011
Haydn: Creation|Gjeilo: No Coward Soul Is Mine (premiere)|Handel: Messiah (Selections)|Thompson: Alleluia|Kopylow: Heavenly Light
2012
Lauridsen: Lux Aeterna|Hoiby: For You, O Democracy|Opera Choruses|Poulenc: Gloria|Gabrieli: Hodie Christus Natus Est|Praetorius: Sing, Beloved Christians Sing|Rudolph: The Dream Isaiah Saw
2013
Mozart: Requiem|Parry: I Was Glad |Bradford: All Creatures|Wilberg: Deep River|Page: There's a City Called Heaven|Whitacre: Lux Aurumque|Hovhaness: Magnificat|Pinkham: Christmas Cantata|Gawthrop: O Come Emmanuel
2014
Brahms: Requiem|Vaughan Williams: O Clap Your Hands|Gjeilo: No Coward Soul is Mine|Bach: Magnificat|Rutter: Gloria|Rudolph: The Dream Isaiah Saw
2015
Brubeck: Mass- To Hope!|Lauridsen: Sure On This Shining Night|Copland: The Promise of Living|Handel: Messiah (Part I)|Rachmaninoff: O Come Let Us Worship & Glory Be To God (from Vespers)
2016
Faure: Requiem|Vaughan Williams: Serenade to Music & Antiphon|Vaughan Williams: Hodie|Biebl: Ave Maria
2017
Handel: Messiah (Parts II & III)|Pergolesi: Magnificat|Schubert: Magnificat|Lauridsen: O Magnum Mysterium|Jenkins: Proclamation from Gloria|Higdon: Love Came Down|Ginastera: Alleluia
2018
Mendelssohn: Elijah|Vivaldi: Gloria|Higdon: O Magnum Mysterium|Rudolph: The Dream Isaiah Saw
2019
Verdi: Requiem|Rutter: Gloria|Vaughan Williams: Fantasia on Christmas Carols|Willcocks: Sing!
2022
Handel: Messiah (Selections)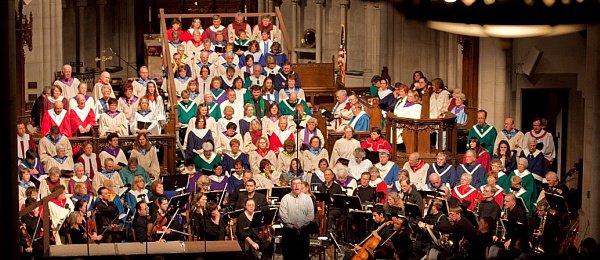 Click below to Sample Live Performances by the Chorus:
Elijah: He Watching Over Israel
Gjeilo: No Coward Soul Is Mine
---
Mercerburg Chorus CDs Available:
Mostly Christmas
Music We love to Sing
April, 2006 - Mendelssohn: Elijah
April, 2008 - Brubeck: Mass- To Hope!
December, 2008 -Vaughan Williams: Hodie
April 2009 - Vaughan Williams: Dona Nobis Pacem
December, 2009 - Vivaldi: Gloria, Britten: Ceremony of Carols
April 2010 - Puccini: Messa di Gloria, Bernstein: Chichester PsalmsDecember,
2010 - Bach: Christmas Oratorio, Vaughan Williams: Fantasia on Christmas Casrols, Dalglish: Star in the East

All CDs are $10 and available at the back of the chapel before and after the concerts or by calling 717-328-2324.
---